MBC Strategic Wins Three 2022 MarCom Awards for Investment and Financial Branding
MBC Strategic is honored to have been recognized by the MarCom Awards this year as a leader in investment-related digital marketing communications after receiving three awards. The awards reflect industry peer recognition for excellence in financial and investment marketing and branding. The 2022 award-winning investment marketing campaigns ranged from a complete rebrand for a global asset manager and an institutional equity asset manager to a website design for a mutual fund and asset management firm.
The MarCom Awards recognize high-quality work across firms of all sizes by highlighting outstanding creative achievement in marketing, communications, branding, websites and print materials. Judged and administered by industry peers and influencers, the MarCom Awards stand as part of the Association of Marketing and Communication Professionals.
MBC Strategic founder, Matt Brunini, commented on the recognition: "We are honored to be recognized by our marketing peers for these very distinct and unique projects. The entire agency participated in delivering powerful messaging, design and execution across both print and digital materials to help these firms relaunch their brands in a new and engaging way."
Cape Capital – 2022 Platinum winner
Cape Capital is a trusted wealth and investment management firm located in Zurich, Switzerland committed to serving remarkable families, individuals and institutions who seek partnership, protection and performance. Cape approached MBC Strategic in an effort to refresh its logo, website and collateral, channeling the modern and sophisticated expression of the brand as it has evolved. The updated logo, website and materials reflected a global firm committed to taking on what's next—a truly innovative plan for the future of investing.
The brand re-launched in early 2022, better articulating the essence of the firm and better connecting with its audience.
To learn more about this award-winning global asset manager rebrand please click here.
the london company – 2022 gold winner
The London Company is a proven institutional equity asset manager who manages $31 billion and is committed to generating long-term value through a focused, bottom-up strategy driven by downside protection. From a refreshed brand strategy, to a new logo, website and a complete rework of a broad range of sales support materials, the quality value investment manager tasked MBC Strategic to recreate its message and redesign its presence.
The new brand launched in 2022, featuring a sleek and modern look for the institutional asset manager. The dynamic site features interactive elements, a mix of aspirational and engaging imagery, as well as powerful messaging that is true to the brand's vision and outlook.
To learn more about this award-winning rebrand for an institutional equity asset manager please click here.
homestead funds – 2022 gold winner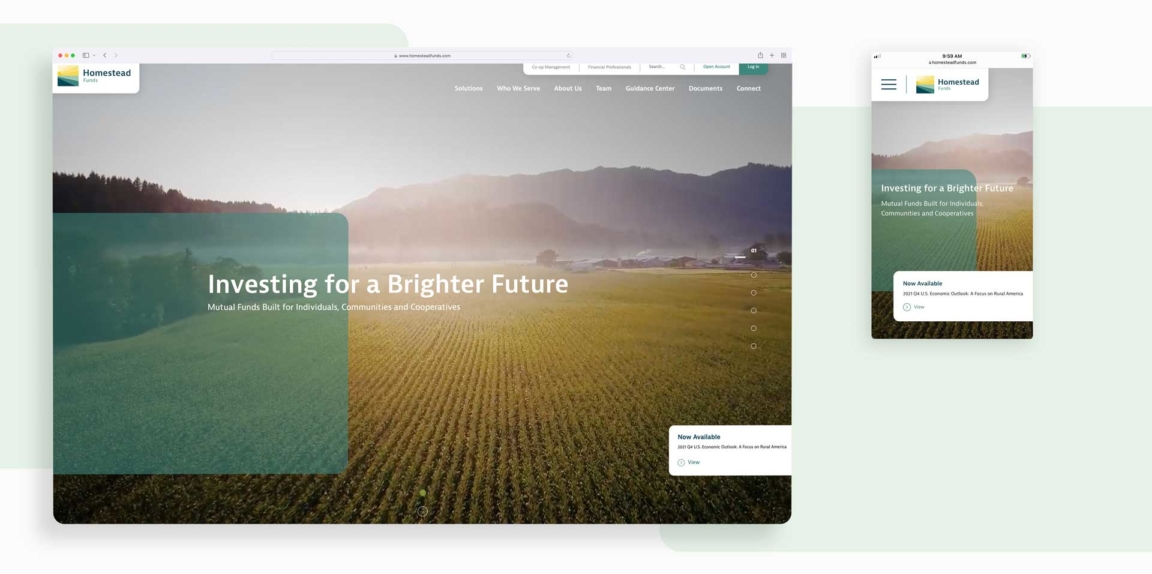 Homestead Funds is a mutual fund and asset management firm with roots in rural America, originally formed over 30 years ago to invest on behalf of community electric cooperatives and their employees. The firm approached MBC Strategic for a full rebrand, including a new logo, materials and website, seeking a design that not only modernized their digital presence, but one that connected their historic roots with a sense of hope for the future.
The new forward-thinking website stood out in its space, presenting modern imagery and messaging that proved to connect with the mutual fund firm's existing and future client base.
To learn more about this award-winning mutual fund website design please click here.
About marcom
MarCom Awards honors excellence in marketing and communication while recognizing the creativity, hard work and generosity of industry professionals. Since its inception in 2004, MarCom has evolved into one of the largest, most-respected creative competitions in the world. Each year about 6,500 print and digital entries are submitted from dozens of countries.
---
The awards rounded out an exciting year for MBC in 2022, with the following video encapsulating some of our top projects: