Investment Branding Recognition from MarCom Awards
Over the past few years, investment marketing and branding have undergone significant changes. Companies have dedicated much more effort to effective financial marketing, thoughtful investment website design and development, and financial services branding projects given the significant value and impact these branding efforts have on their customers. Their importance has been especially underscored by the arrival of fintech firms and new types of investment vehicles, such as ESG investing and socially responsible funds. Laws and regulations have changed, allowing hedge funds to participate in some advertising. Perhaps more importantly, consumers are demanding more information and showing greater interest in the products they purchase. People want to be informed about their portfolios.
In this environment, MBC Strategic recently received recognition from MarCom Awards for its work in the financial services and investment marketing and branding space. Three of the award-winning investment marketing firm's branding projects, spanning branding, web design and web development, identity collateral, investment marketing materials, and financial advertising, were featured in the 2016 MarCom awards.
See how MBC Strategic tackled these challenges for its clients in the work MarCom Awards recognized below.
As a $10 billion municipal bond manager with a roster of high net worth clients, Gurtin Municipal Bond Management felt it was time for their brand and materials to match their sophisticated approach as an asset manager. Gurtin approached MBC Strategic to perform a comprehensive rebrand encompassing new messaging, logo, identity, website, marketing materials, and even company t-shirts. The team at MBC responded by creating something unique and sophisticated to match Gurtin's core values, communicating their most important trait – comfort – to both advisors and investors in delivering the highest level of research, innovative municipal strategies, client service, and investment support. For its work, MBC Strategic was presented with the MarCom Award Platinum, the highest award conferred by the MarCom group.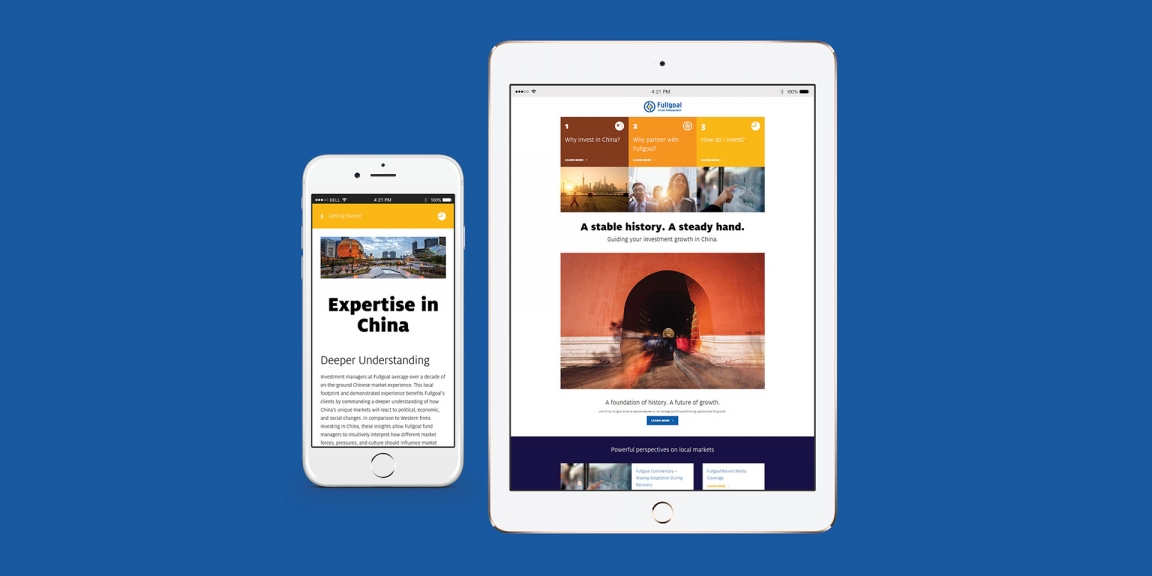 Fullgoal Asset Management is an international asset manager based in Hong Kong that gives institutional investors worldwide unprecedented access to China's stock and bond markets. Fullgoal approached MBC Strategic to help present its investment solutions with a more creative and Western-style approach and to communicate its competitive advantages to global investors and institutions. MBC Strategic developed a comprehensive brand strategy, designed all investment marketing materials including fact sheets, identity materials, presentation decks, as well as the design and development for their fund company website. The financial branding project won MBC Strategic the MarCom Award Gold.
Reality Shares, an ETF provider looking to bring institutional-quality products to a retail space, needed a brand strategy resonating with its target audience. The firm recognized the important of financial communications and approached MBC Strategic regarding a comprehensive rebrand involving new websites, branding and identity materials, messaging and copywriting, presentation and fund marketing materials, content marketing, conference marketing, advertising, social media and ongoing marketing support. The brand rollout and ongoing support better communicated the Reality Shares story and investment products across retail, advisor and institutional audiences. The efforts better positioned Reality Shares to communicate its offerings to the retail and institutional investment space and garnered MBC Strategic the 2016 MarCom Award Honorable Mention.
---
Learn more about our financial branding services here.
---
About Marcom
MarCom Awards is a creative competition for any individual or company involved in the concept, writing and design of print, visual, audio and web materials and programs. Entries come from corporate marketing and communication departments, advertising agencies, PR firms, design shops, production companies and freelancers.
The MarCom statuette graces the trophy cases of some of the top business and communication firms in the world. The MarCom competition has grown to perhaps the largest of its kind in the world with about 6,000 entries per year. A look at the winners shows a range in size from individuals to media conglomerates and Fortune 50 companies. The competition is so well thought of in the industry that national public relations organizations, local ad clubs, and local business communicator chapters are entrants.