MBC Strategic Receives Prestigious Platinum Award at the 2019 dotCOMM Awards In Finance
This year, MBC Strategic, a financial and investment marketing agency based in Santa Monica, is the proud recipient of three dotCOMM Awards in the category of Financial Website design and development. Specifically, the awards were for two asset management websites and a real estate investment firm. The dotCOMM Awards, one of the highly regarded evaluators of creative work, strives to reflect and highlight how creatives in the dynamic web are transforming the marketing and branding industry. From marketing campaigns to content marketing, dotCOMM Awards have recognized excellence in web creativity and digital communications for over 20 years, honoring the creative professionals who continue to push the boundaries of digital marketing.
MBC Strategic received the highest honor in the category of Finance, taking home the prestigious Platinum award for its comprehensive rebrand for institutional asset management firm Wasmer Schroeder. In addition to the Platinum award, MBC Strategic received two Gold awards for its work for Cambiar Investors and Domos.
Cambiar Investors, an institutional asset management firm specializing in relative value investing, partnered with MBC Strategic for a comprehensive redesign of its website that is focused on both retail and institutional investors, showcasing their SMA strategies and mutual funds. Domos is the co-living investment arm stemming from a joint venture of Real Estate Asset Partners (REAP Capital) and Civitas Communities, who collectively have over 30 years of experience in developing and investing in workforce housing and co-living. They tasked MBC Strategic to develop the brand and its identity by creating an industry leading website and materials necessary for its market launch. The 2019 dotCOMM Awards recognized these investment rebranding and website designs for its interactivity, content, and design.
MBC Strategic is honored to be recognized by both the dotCOMM Awards and the Association of Marketing and Communication Professionals, AMCP, as leaders in creative communication and digital marketing. Matt Brunini, Founder, says, "We are proud to continue to produce quality, award-winning investment marketing materials, websites and comprehensive rebrands for our clients as we help grow their businesses, but it doesn't stop there. Our goal is to always push the boundaries of financial branding and marketing, helping the industry to compete creatively while we overdeliver for our clients."
The dotCOMM Awards is an international competition honoring excellence in web creativity and digital communication. The competition is unique in that it reflects the role of creatives in the dynamic web that is transforming how we market and communicate products and services. dotCOMM Awards' categories are the elements of the web's evolving tools. Interactivity, content, design, social media, video, apps, blogs and influencers are all important components of digital public relations, marketing and advertising campaigns. Together, they generate branding, customer engagement and ultimately sales. dotCOMM entries come from corporate communication departments, public relations firms, digital shops, advertising agencies and freelancers. Entrants include designers, developers, content producers, digital artists, video professionals, account supervisors, creative directors and corporate executives.
2019 Platinum Winner: Wasmer Schroeder
2019 Gold Winner: Cambiar Investors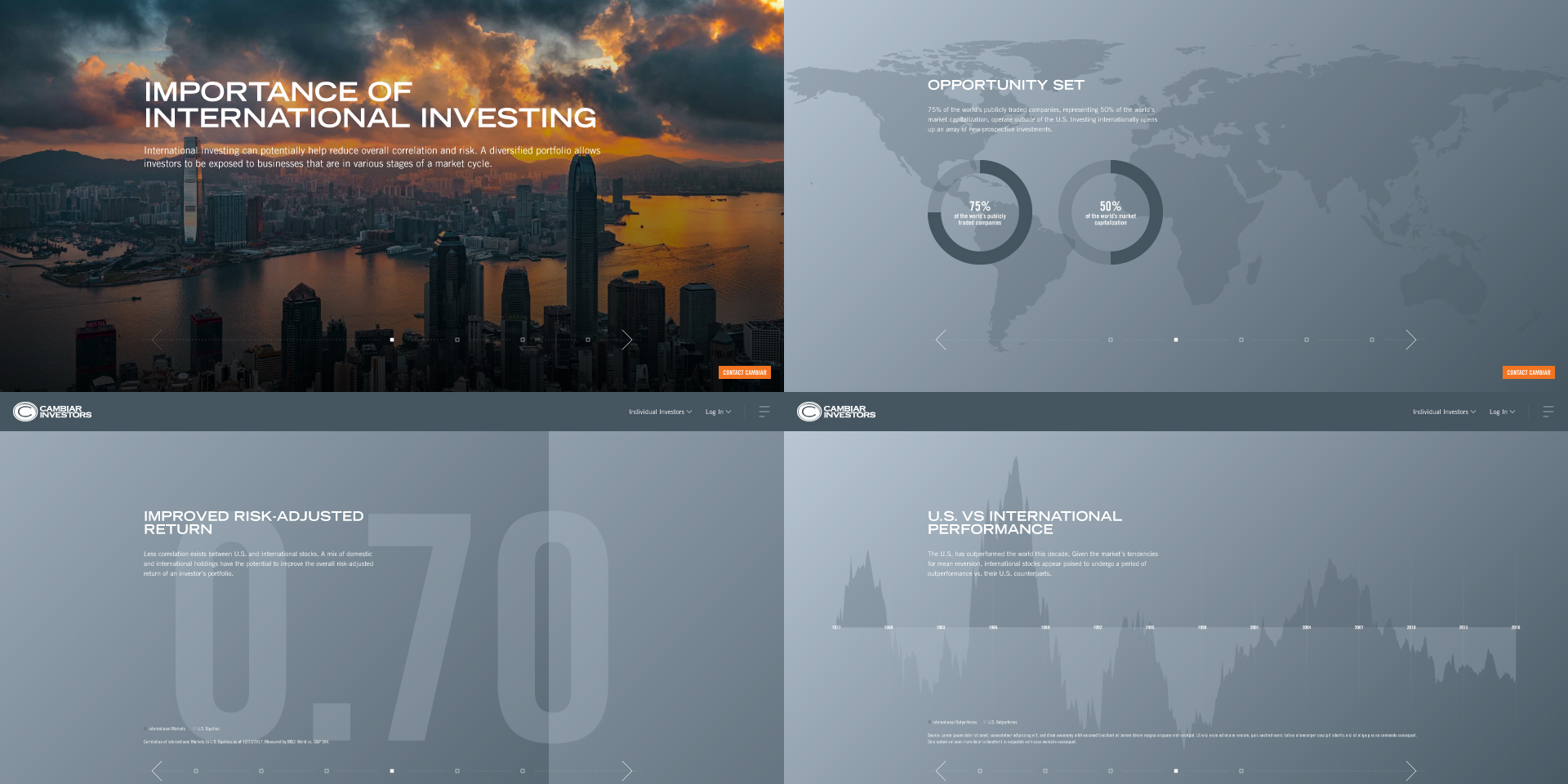 2019 Gold Winner: DOMOS
[1] Morningstar Direct (Data as of 4/2019). Includes ESG Integration, Impact and Sustainable Sector funds as defined in Sustainable Funds U.S. Landscape Report, 2018.
[2] US SIF: The Forum for Sustainable and Responsible Investment
[3] Source: Morningstar Direct (Data as of 4/2019). Includes ESG Integration, Impact and Sustainable Sector funds as defined in Sustainable Funds U.S. Landscape Report, 2018https://medium.com/the-esg-advisor/esg-funds-set-a-record-for-flows-in-q1-77b6ad3a98ae
[4] https://www.investmentnews.com/article/20190316/FREE/190319951/esg-options-scarce-in-401-k-plans %40investmentnews
[5] Sizing the Impact Investing Market (Global Impact Investing Network (GIIN), April 1, 2019
[6] https://russellinvestments.com/us/blog/millennials-and-responsible-investing
Published:
Tags: benefits to financial marketing, financial services industry marketing, investment industry marketing, los angeles investment marketing, financial marketing initiatives, financial brand marketing, Financial service brand identity, 2019 dotcomm awards, 2019 finance award, 2019 award winning agency, 2019 award winning financial marketing, award winning advertising agency, award winning financial service marketing, branding agency with investment experience, branding for investment industry, investment brand strategy, investment marketing and branding, MBC Strategic, MBC Strategic investment marketing